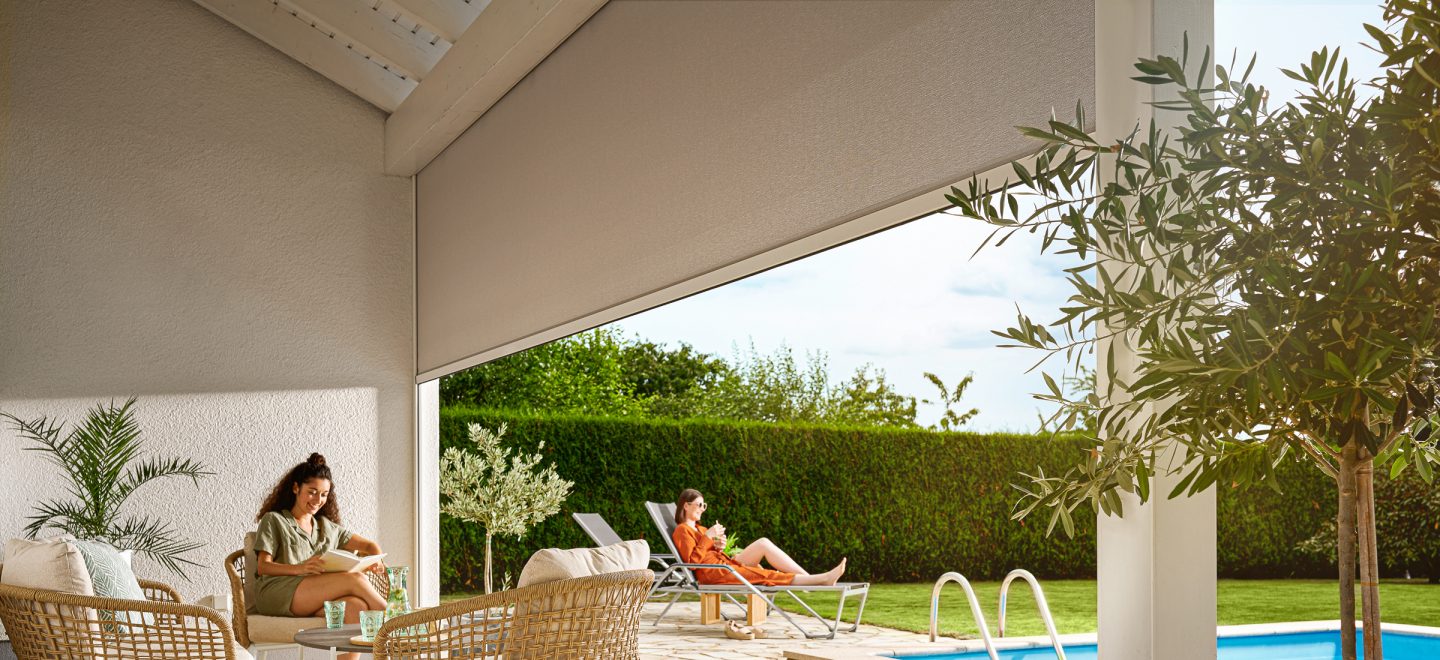 achievements
achievements
Contemporary style for home and garden
New, contemporary sun protection solutions are now a must for our homes and personal gardens. Today, the design of outdoor environments aims not only to provide shade and protection from the sun, but also to be an extension of our living space: a place to take full advantage of outdoor moments, share pleasant moments in the company of loved ones or simply relax.
Serge Ferrari's sun protection membranes provide a pleasant atmosphere, whether on hot summer days or on rainy or windy days. The thinness of these textiles prevents the accumulation of dirt and makes them easy to maintain. Soltis fabrics also offer long-lasting resistance to UV rays, preserving their impeccable appearance over the long term.
This is the situation with the Soltis Veozip Color fabric installed at the home of Lisa and Sven Stadler, who live in a delightful residence in western Germany in the company of their four-legged companion, Leon, a dachshund. The couple embarked on a personalized garden project, acquiring and converting a small bungalow dating from the late 1960s.
To make the most of outdoor living, the house was fitted with a Soltis Veozip Color vertical blind in a delicate shade of frosted white, offering maximum sun protection while ensuring privacy from prying eyes.
Pure intelligence
The Stadler couple has been seduced by the remarkable efficiency of solar preservation, which, thanks to its tint, blocks 92% of light and, with D-rated glazing, 96% of heat. What's more, they are well sheltered from the wind that frequently blows across their property in autumn.
If residents want to change quickly after a day at the pool, they enjoy total privacy behind the fabric, without being plunged into darkness. They are particularly pleased with the user-friendliness of the material. They can conveniently control the awning using an intelligent home automation system, which can be remotely controlled via remote control or cell phone, even when they're outside.
Adaptable and high-performance
In the case of Soltis Veozip Color, the inclusion of plant fibers gives it a natural matte appearance and a textile look. What's more, the fabric stands out for its high technical stability and exceptional durability, without any alteration or deformation.
We wish the Stadler family many pleasant moments in their garden, and the best of luck with their latest acquisition!
Copyright Studio Lars Langemeier