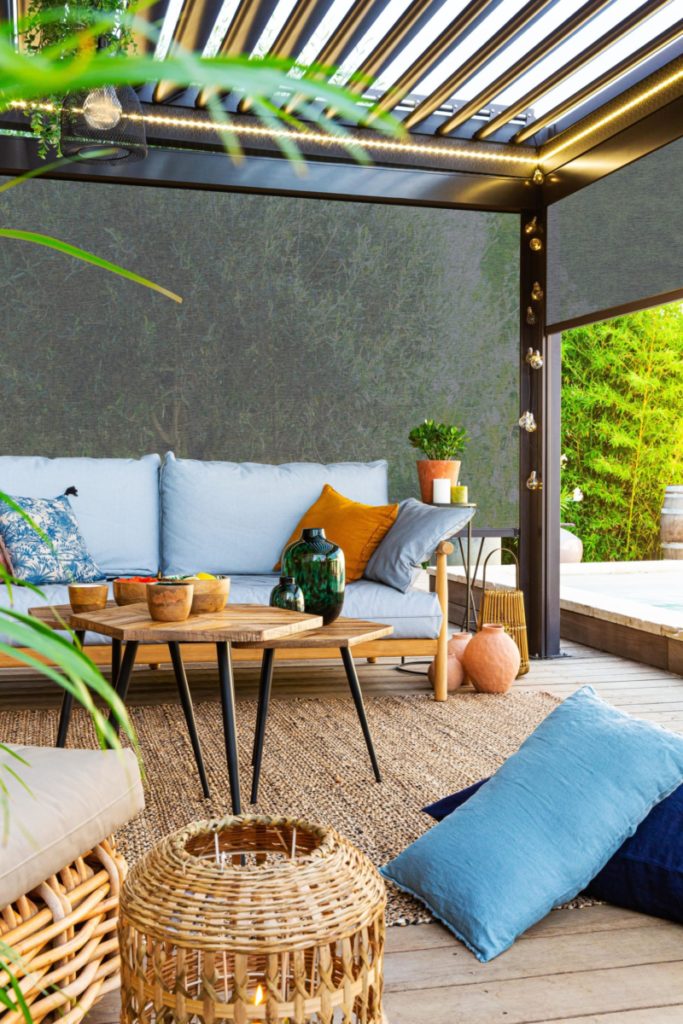 Frequently asked questions
The Soltis 96 Color is perfect for retractable arm awning application, thanks to its color range and size. The more versatile Soltis 92 Color will suit all types of application.
Soltis micro-perforated fabrics avoid the risk of poaching. In the event of light rain, water slides off the surface of the membrane. In the event of heavy rain, we recommend that you fold up your awning. We also offer perfectly waterproof ranges such as Soltis 502 Proof or Soltis 622 Proof.
The Soltis 96 Color will suit awnings of all sizes.
The micro-perforations provide sun protection while maintaining thermal comfort and good UV protection. For example, under a Soltis 96 Color, you'll be protected as if you were wearing a cotton t-shirt.
In spite of the micro-perforations, Soltis® fabrics allow you to maintain a good level of privacy in the middle of the day.
Glare is mainly related to the chosen fabric color. Soltis® technical fabrics provide a very good level of protection against glare while still allowing you to see through (thanks to the micro-perforations).
Soltis® products benefit from the ISO 9001 Quality Insurance systems and are guaranteed for 5 years for all their
respective applications. The warranty covers the main characteristics of the products:
• Mechanical resistance
• UV resistance and colorfastness over time
• Resistance to fire
All Soltis® solar protection fabrics are manufactured at two production sites in Europe, in France and Germany.
Soltis® fabrics offer an excellent mechanical resistance. As a reminder, with any type of fabric, it is strongly recommended to retract your awning in the event of hailstorms or strong winds.
For cleaning your Précontraint® or Smart Yarn fabrics, we recommend using the Cleaner 500. You can also use soapy water and a soft brush. Soltis fabrics manufactured using Précontraint® technology are even easier to maintain because of their smooth surface. Indoors, Smart Coating products can be dusted with a feather duster. We strongly advise against the use of abrasive products, which could damage your Soltis. For further advice, please consult the Soltis maintenance guide.
We do not own our own showroom. However, to see our products, you can go directly to the showroom of the nearest member of the Serge Ferrari Premium Partner network. You can find all the members of the network on the network map.
Overall, a dark colour will be more effective outdoors and a light colour indoors. However, thermal performance cannot be the only criteria for choosing a colour. Glare and vision to the outside should also be considered. If you need guidance on choosing the right colour for you, contact your nearest Serge Ferrari Premium Partner.
Thermal comfort is improved under a Soltis fabric thanks to the circulation of the air in the micro-perforations. Underneath the fabric, you will have a fresh feeling as under a tree, even with dark colours.
The Soltis 96 Color offers enhanced thermal comfort: micro-perforations allow air to pass through, giving you a refreshing feeling under your awning and avoiding the "greenhouse effect". Its transparency lets you maintain visual contact with your environment. It also has greater UV resistance, so your Soltis will keep its color over the long term. Thanks to its smooth surface, Soltis 96 Color is easy to clean with soapy water.
Serge Ferrari fabrics are among the most resistant on the market, especially thanks to the Précontraint manufacturing process. This technology enables us to offer products that are thin and lightweight for improved aesthetics, while ensuring superior mechanical strength.
Serge Ferrari fabrics are designed to withstand time. However, in case of a problem, you can contact a Serge Ferrari Premium Partner for a diagnosis.