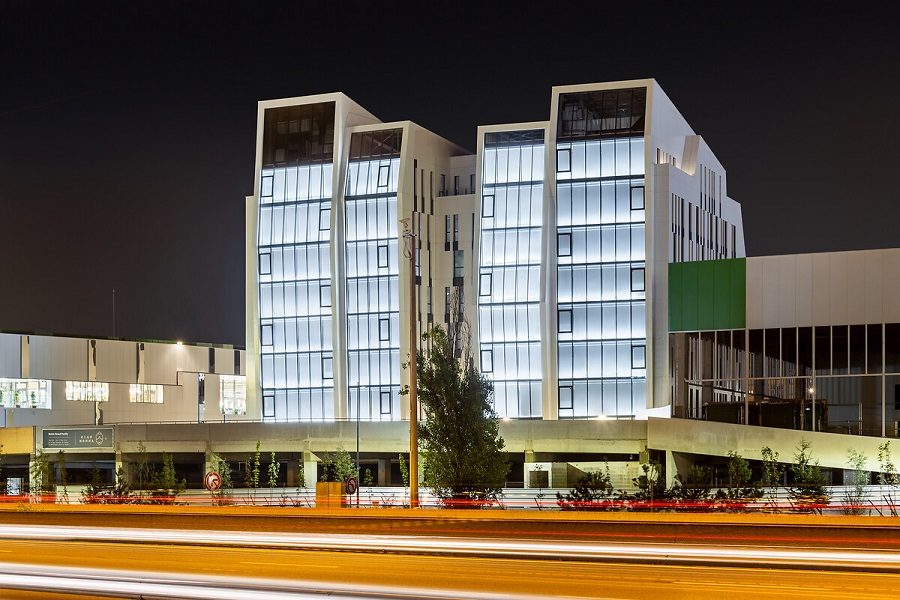 Initial project brings bright light to Grand Parilly with Soltis Touch Color technology
Product
Soltis Touch
Nicolas Simian from Soho Atlas In Fine agency
achievements
achievements
Grand Parilly in Vénissieux is a major urban project in the Lyon region. Its aim is to create a living space by skilfully combining commerce, work and leisure. The new office building, named "Initial", is positioned between the future Ikea and Leroy Merlin, proudly symbolizing this rapidly expanding district. Its outstanding visibility from the Lyon ring road, which is crossed daily by 140,000 vehicles, makes it an unmissable landmark.
Harmony in Architecture : The Luminous Landmark of the New District

 
With a surface area of 8,800 m2, the building boasts an H-shaped design and subtly detailed facades. The building's northernmost face, clearly visible from the ring road, is subdivided into four large urban windows, each with an asymmetrical configuration offering varying heights and angles to bring a harmonious rhythm to the whole. The resulting architectural configuration creates a visual illusion of four entities rising like a vibrant allegory of the city. Lighting accentuates the vitality of this architecture, both during the day and at night, giving the building significant importance as a key urban landmark in the new district.
Blinds made from Soltis Touch Color fabric amplify the luminous design created by Soho architects Atlas In Fine. Lighting is provided by LED strips inserted in the flooring and placed directly under the blind. The impressive solar reflection properties of the Jasmine shade from the Soltis Touch Color range ensure a remarkably high level of luminosity for the façade. Serge Ferrari's interior blinds were selected to meet the requirements of developer Fontanel and Soho architects Atlas In Fine.
The remarkable thermal characteristics of Soltis Touch Color were highly appreciated for this project, which was awarded BREEAM Excellent certification. In addition, the exceptional acoustic qualities of Soltis Touch Color will enhance the well-being of occupants.
Serge Ferrari was able to respond to the specific constraints of the project through the custom production of large blinds. The different widths of the blind, which cover both small and large openings without interruption, lend dynamism to the interior space. Aesthetic continuity is preserved thanks to the absence of visible joints, fulfilling the architect's wishes. As for the mechanism, all the blinds are automated and roll up in visible boxes fixed to the ceiling or walls. Design and installations were entrusted to our customer partner Griesser.