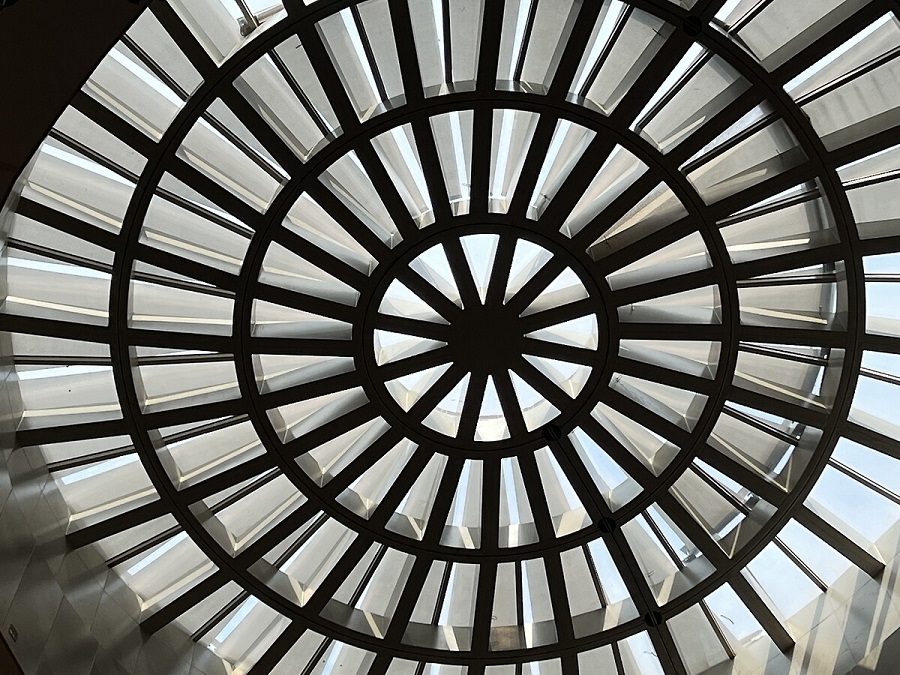 A contemporary architectural glazing project in Shanghai, using Soltis 92 Color
Produkt
Soltis 92
Located in the heart of Shanghai, in the Hongkou district, the Hall du Soleil is a huge commercial complex that incorporates innovative Soltis 92 Color technology in its glass roof. This major project is part of a vast urban renewal plan aimed at transforming the district into a dynamic economic and commercial hub in the immediate vicinity of central Shanghai.
A contemporary project with a bold design
This vast complex, comprising a shopping mall, two towers, shops and offices, took eight years to build. Situated on a 25-hectare site, the Hall du Soleil aims to become a major attraction in the capital. As an essential business and commercial center, it is positioned as a benchmark in terms of architecture, consumerism and lifestyle. Unlike traditional, right-angled structures, the Hall du Soleil has an organic, flowing form that blends harmoniously into the surrounding urban landscape. Its facade, with its terraces and planted areas, features convex and concave curved lines, giving it a dynamic allure. All these elements make the building a true architectural landmark.
Reinventing retail space
When designing the project, the architects were aware of the digital advances and changing consumer habits that impact the organization of large spaces. So they transformed the building into much more than just a shopping mall, creating an innovative complex combining technology, ecology and the human experience.
The Hall du Soleil presents itself as a place of conviviality rather than simply a place for consumption. The circulation spaces and shopping areas are designed to encourage interaction between people.
The social dimension, with its dynamism, exchanges and diverse cultures, is fully integrated into the retail environment to offer a unique urban, sensory and human experience.
Shopping areas, terraces and green spaces are spread over several levels. Finally, the three-storey atrium, located at the heart of the building, benefits from natural light thanks to an imposing skylight.
An exceptional glass roof with Soltis 92 Color, a material second to none
The centerpiece of the complex is its spectacular 5,000 square meter glass roof, one of the most expansive in Shanghai. Equipped with a steel base, it is actually formed by the combination of three structures inspired by the silhouette of the lotus. Together, they create an asymmetrical circle over 80 metres in diameter.
The Soltis 92 Color blinds from Serge Ferrari were installed on the glass roof, offering an unfolding system to follow the movement of the sun. Thanks to their ability to block up to 97% of heat, these membranes help to regulate the temperature and luminosity diffused throughout the atrium.
The plants benefit from the natural lighting that penetrates through the skylight under the glass roof, providing an airy atmosphere and an enhanced shopping experience.
Manufacturer Wintom Shanghai ​
Copyright Ms WANG Huan