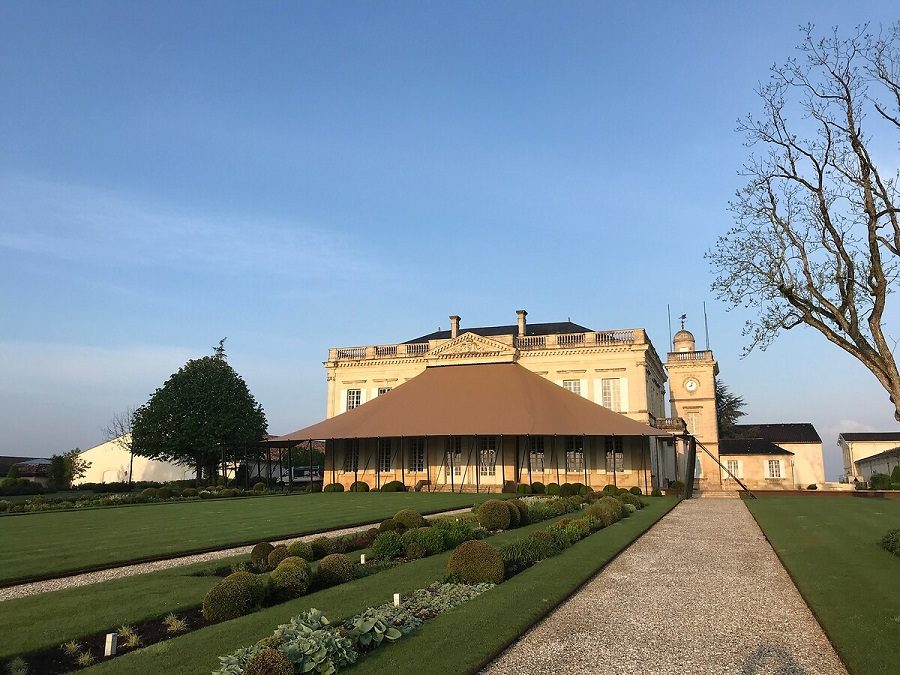 Temporary construction in Soltis 502 Proof for the first party of a renowned French winery
Produkt
Soltis 502 Proof
SARL Grand Voile - expert Serge Ferrari
On April 27, 2022, the Gruaud-Larose estate held its flagship event of the year to reveal its most recent vintage to experts from the four corners of the globe. The "primeurs", traditional events of the Bordeaux wine world, are organized every year by the region's leading wineries, such as Château Gruaud-Larose. Founded in 1725, this renowned estate has enjoyed the status of Second Grand Cru since 1855, and has been granted the AOC Saint-Julien appellation for its two grape varieties, Gruaud-Larose and Sarget.
A canvas color in total symbiosis with the natural setting
In preparation for the primeur event, the managers wanted to create an outdoor reception area that would blend harmoniously with the façade and traditional architecture of the château, which is listed as a French historic site. With this in mind, a specially designed temporary construction was put in place, made from Soltis 502 Proof fabric in an "autumnal" shade.
This distinctive shade elegantly complemented both the château itself and its vines, as well as the overall natural setting, which offered visitors hedges, fruit trees, verdant lawns and a variety of horticultural plants.
Soltis 502 Proof canvas, manufactured for exceptional durability
Every spring, Château Gruaud-Larose holds its traditional "primeur" evening. To guarantee the efficiency and durability of the structure, essential criteria were taken into account. The Soltis 502 Proof membrane fully satisfies these criteria, thanks to its remarkable strength and its ability to protect against weather conditions and solar rays, thus guaranteeing its longevity.
Thanks to its light weight, the Soltis 502 Proof membrane also makes it much easier for installers to handle and install. Architect Mathieu Perez, from Grand Voile in Tauriac (33) and a member of the Expert Serge Ferrari network, was selected to design and build the ephemeral structure at Château de Gruaud-Larose.
The structure, which was recently dismantled, will be reinstalled for future events, including the following year's "primeur" evening. This ephemeral structure perfectly embodies a successful marriage of innovation, efficiency and heritage preservation, illustrating the excellent use of Serge Ferrari's Soltis 502 Proof membrane.
Copyright ©SARL Grand Voile