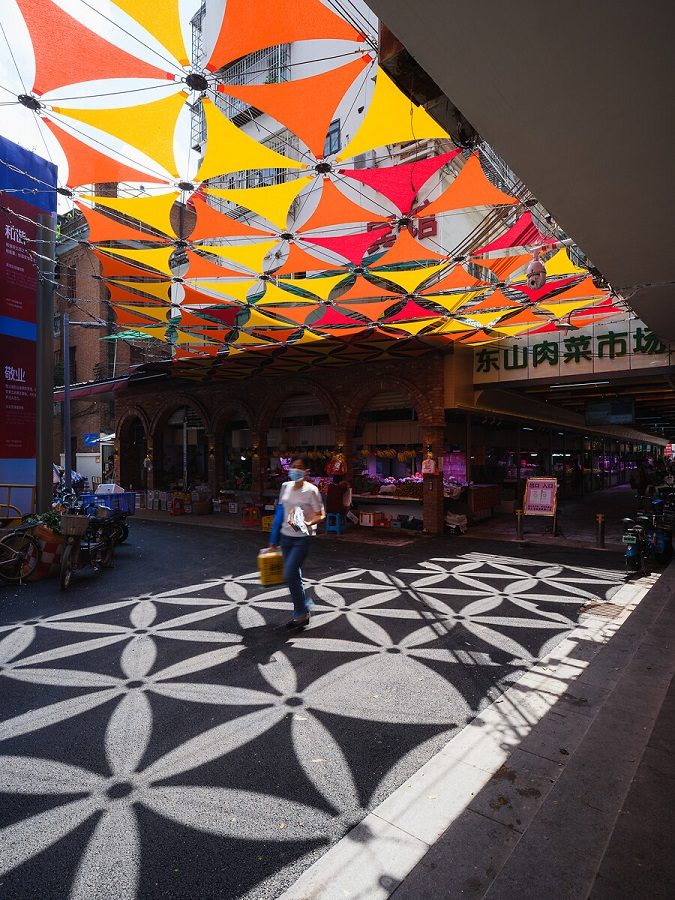 The food market is the lungs of urban life, the true reflection of local activity. With its colorful stalls brimming with green vegetables, red fruits, fresh meats and ready-made meals, it offers a lively, bustling experience. Visitors stroll around, interacting with shopkeepers, negotiating and buying quality products for their daily lives.
The Dongshan food market, located in Guangzhou's Xinhepu District, enjoys a solid reputation and is much appreciated by residents. Located in the heart of old Guangzhou, it is an essential part of the local urban fabric, steeped in the city's historical and cultural heritage. The district is distinguished by its architecture, characterized by modest buildings and houses that subtly merge Eastern and Western styles, and is home to a large number of old mansions that have played host to political and cultural figures. Although the Dongshan District enjoys immense popularity in the city, the advance of urbanization has gradually tarnished its appeal among young people, who now regard it as "old-fashioned".
"Art in daily life": The artistic renaissance of Dongshan market
With the aim of revitalizing the market, a complete renovation was undertaken in June 2021 at Dongshan Food Market. Led by SPG INVEST Group, Studio Oumoumou of Shanghai Jiaotong University created an artistic design entitled "A Guigang kaleidoscope: art in daily life". The work highlights the preservation of Dongshan's historic buildings, the authentic atmosphere of traditional community life and the folklore of the market. The project features a variety of artistic skills and concepts, including the use of multi-colored composite canvas structures and arabesques. This aesthetic harmoniously combines the atmosphere of the Lingnan region (southern China) with a contemporary touch, preserving its distinctive character.
Soltis 92 Color: a colorful symphony evoking market products
For this project, the designer opted to use Soltis 92 fabric to embellish walls and ceilings. The variety of shades offered by Soltis 92 fabric made it possible to recreate the colors of fruit and vegetables, creating a chromatic harmony reminiscent of market produce. The wide selection of shades available in Soltis 92 fabric made it possible to create nuances reminiscent of the colors of fruit and vegetables, with the aim of recreating the chromatic balance characteristic of products on the market.
Flexlight Xtrem TX30 II textile membrane was also used to renovate the market's entrance facade. This textile membrane stands out for its durability and high resistance. Serge Ferrari's flexible fabric harmonizes artistically with historic areas, infusing a modern aesthetic while embellishing the premises.
Builder and investor SPG Invest
Architect / Designer Oumoumou studio Shanghai Jiaotong University
Engineering and Installation Canobbio Guangzhou
Photo Mr.Guang Jiangchi